Look here for all the news at Ndolge.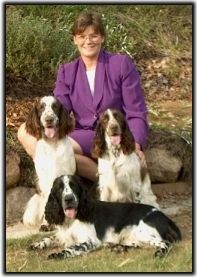 During 2015 Ndolge will welcome a long awaited edition........... A Grandson of our Brumby (Ch Shipden Yass (Imp UK), our Spencer (MBIS BISS Grand Ch Ndolge Collectors Item) and our beloved Nat (Sandicam Wild Women Do), just to name a few of our present and past dogs
Ndolge Unforgiven -- Clint
Thanks to Amanda Borg for helping us with this litter and for talking me into having this litter at Ndolge when we had just about given up.
Clint has hit the showring with Baby in Group at his first show, we look forward to showing this puppy." In 2016, Clint is still continuing on his winning ways constantly in the winning circle and has numerous classes in shows and Runner up in Group.
Clint wins Challenge Dog and Runner Up Best in Show at the ESSAQ Show under renowned breeder Mr Steve Wraith...... such a great achievement for a young dog.
Arrial has just been retired from the show ring due to ill health and will spend her time lazing around Ndolge with the old girl Nat.
We look forward to introducing a new puppy into the house hold soon ........ watch for more details